REGIS Photo Roster, available as an application in RU Faculty Tools, provides a quick way for instructors to access photos of your enrolled students. With REGIS Photo Roster, instructors may view student ID photos, first name, last name, and Rutgers ID number. REGIS Photo Roster is not compatible with Banner-coded courses.
REGIS Photo Roster is available for course editing roles through RU Faculty Tools. If it is not listed, please enable it in the course navigation.
Access REGIS Photo Roster
In the course navigation, click RU Faculty Tools.  If RU Faculty Tools is not listed, please enable it in the course navigation.
Click Launch Photo Roster.
REGIS Photo Roster will open in a new tab.
Review the REGIS Photo Roster Terms of Use and click I accept.
Click on the name of your section to view photos.
If your course site has more than one section associated with it, click Close Roster.
Click on the name of other sections to expand.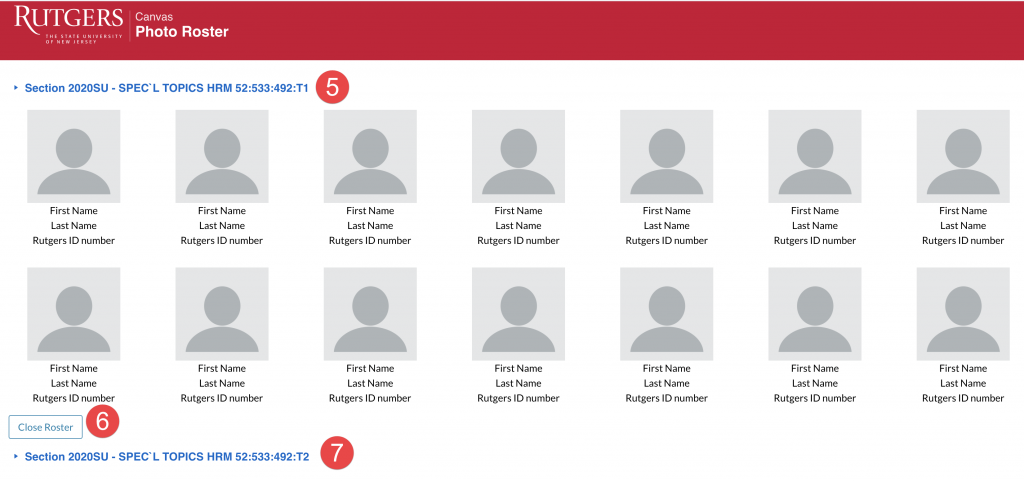 Print REGIS Photo Roster
Use one of the following methods to access your browser print function:

Click File. Print.
Use a keyboard shortcut:

Windows & Linux: Ctrl + p.
Mac: ⌘ + p

Right-click in the browser to access the context menu.

In the window that appears, select the destination.
To change any print settings to ensure the photos are properly placed on the page preview, expand More settings.
When ready, click Print.
Adjust the scale and margins to ensure all photos and student data are properly placed on the page preview.