iClickers allow instructors to ask questions and gather student responses during a lecture. Clicker systems are also commonly called Classroom Response Systems, or Audience Response Systems.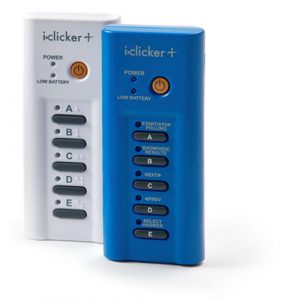 In iClicker systems, each student uses an app for their mobile device or a device, an "iClicker", that looks like a TV remote to answer questions posed by the instructor. Summaries of student responses can be shown in real time to both instructors and students. Answers are stored electronically for later viewing.
How can I use iClicker?
iClicker provides faculty and students with an Audience Response System that can be used in classrooms. Currently our integration supports iClicker base systems used in conjunction with either iClicker devices or mobile devices that have downloaded the iClicker web application. iCicker base stations can be acquired by instructors by contacting iClicker and requesting one at 866-209-5698 (in the USA). Also you can contact Digital Classroom Services to find out if your classroom already has a system in place.
For student iClicker devices, instructors need to contact the Rutgers Bookstore prior to the start of the semester and inform them of how many devices they will need to run their courses. The Bookstore will then make sure that enough devices or student access codes for mobile apps are acquired for student purchase. Students will need to purchase a subscription or a physical device.
Additional Resources
Instructor Getting Started Resources
iClicker Student Getting Started Resources