When courses are migrated from from a legacy learning management system (Sakai, Moodle, or Blackboard), not all content is able to be exactly copied into Canvas.  Embedded Kaltura Media Space videos are among these items.  This guide will assist you quickly locating and re-embedding the videos in you new Canvas course site.
Legacy Learning Management Systems
Because KMS is fully embedded into Canvas via My Media and Media Gallery, the embed codes from Sakai, Moodle and Blackboard do not work well in Canvas and also prohibits the collection of analytical data for KMS Analytics.
When you receive your migrated course in Canvas, the KMS videos that were on your legacy LMS content pages will be replaced with the videos UID.  The UID is a unique identifier that can be used to quickly search for any video you created, own or have publishing right to.  The UID will always begin with a number followed by an underscore and 8 additional characters.  i.e. '1_oi32mg6j'.
To embed your KMS video in Canvas:
Go to the page in Canvas with the missing video and click 'Edit in the upper right corner to access the Rich Content Editor (RCE).

Copy the UID (1), place your cursor on the page (2) where you want to insert the video and click the Apps icon in the toolbar and click Embed Kaltura Media button in the RCE (3).  If the Apps icon is not present, click More menu (4) to display all icons in the toolbar.
**It is recommended that users wait to delete the placeholder UID until after they verify the video embedded correctly.

In the Embed Kaltura Media window, paste the UID in the Search My Media box (1) and press enter to locate the media entry.  You may click the </> Embed button (2) to embed your entry or the gear icon (3) for more options.

If you select the gear icon, you are presented with embed settings to choose a player (1), designate an embed size (2), and set these as your default settings (3). Once configured, click </> Embed button (4). Autoplay is not recommended.

Once you have verified the correct video was embedded, you can delete the UID (1) from the page and click Save (2) to save your changes.
If you wish to see what a different size looks like, you can click Cancel and repeat the steps above selecting a different size.  The screenshot below shows a relative comparison of the Large (608 x 402), Medium (400 x 285) and Small (304 x 231) embeds.  The provided pixel dimensions may vary depending on the formatting of the media.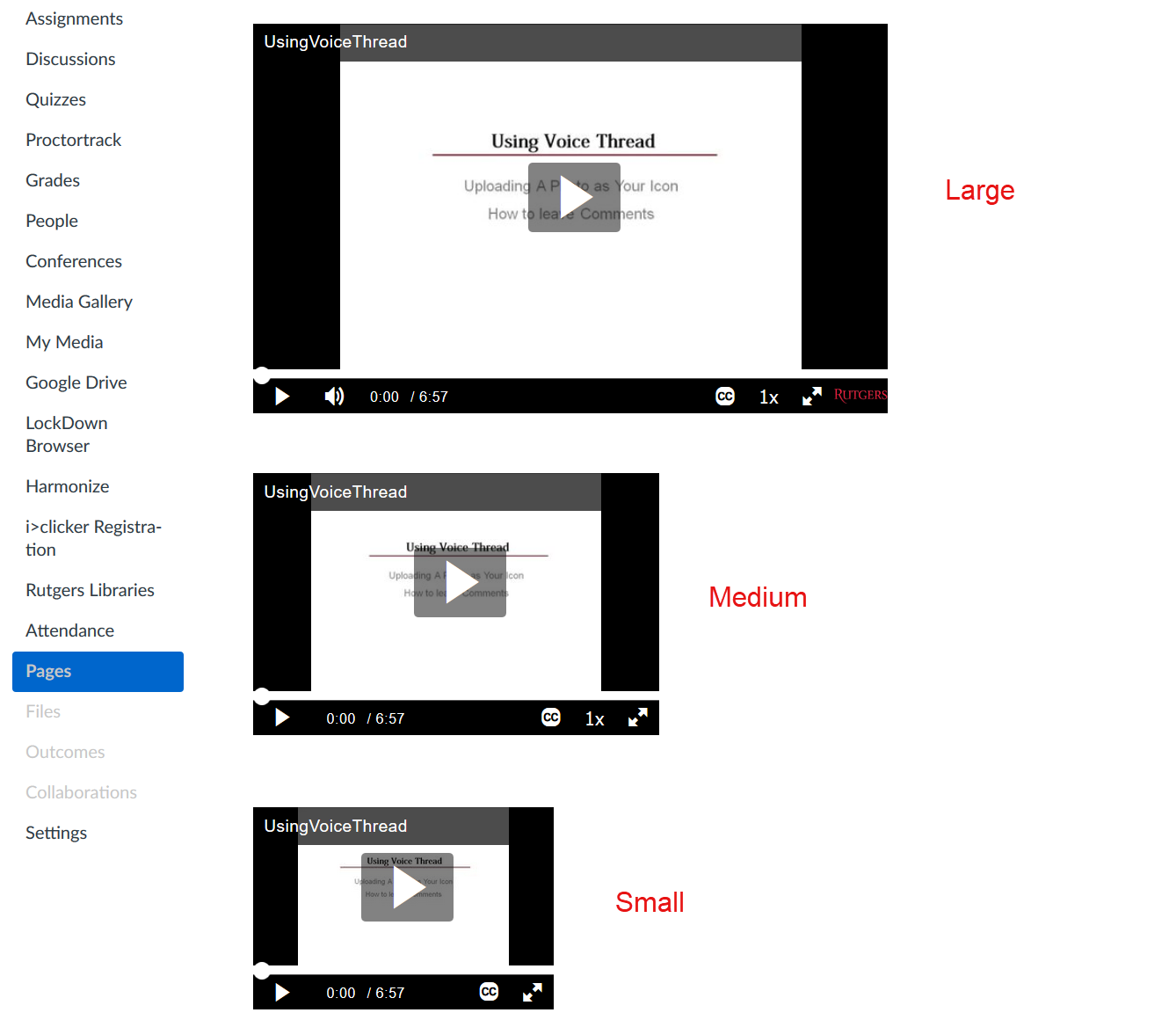 Please contact help@canvas.rutgers.edu or contact your campus Canvas support if any assistance is needed or any issues are encountered.