Sending Messages in Canvas
Please note:
Messaging people inside Canvas is different than sending someone a direct email.
All Inbox messages are stored inside Canvas.
Faculty and Students can update their Canvas Notification Preferences to receive Text Messages to their phone or Emails to their Rutgers/Personal email address about incoming inbox messages. Instructions can be found the bottom of this page.
Canvas Conversations
The Inbox is the messaging tool used instead of email to communicate with a course, a group, an individual student, or a group of students. You can communicate with other people in your course at any time.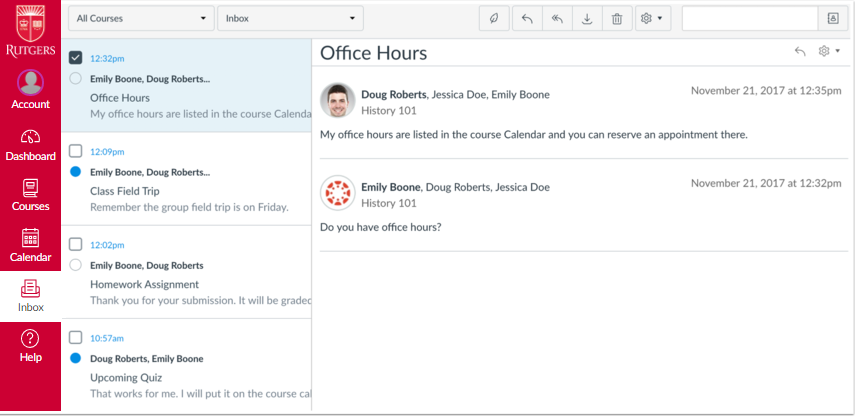 Use Conversations to:
Send a message to someone in your course or group
Send a message to yourself (displays in your Sent folder)
Reply to messages from others in your course
Filter conversations by course or type
View and reply to assignment submission comments
You can adjust your notification preferences to receive conversations using external channels.
How to set up Email and Text Notifications
Your account notification preferences will determine whether receive an email or text notification for incoming Canvas Messages.

Edit Your Canvas Notification Preferences
To receive a notification right away, click the check mark icon.
To receive a daily notification, click the clock icon.
To receive a weekly notification, click the calendar icon. .
If you do not want to receive a notification, click the remove icon.
Additional Resources (external links)
---