Zoom – Setup for Instructors
The Zoom LTI integration in Canvas allows faculty to schedule a Zoom meeting and share the link to the meeting with students in their course. This page describes how to set-up and use Zoom LTI in Canvas. Users will still need to download the Zoom app or open the meeting in a new browser tab.
To use the Zoom LTI Integration, Rutgers NetID users will need an existing Rutgers Zoom account. Please enable Zoom via the Service Activation Portal. Zoom accounts are created with email addresses with the format of netid@rutgers.edu.  You must change your default email address in Canvas to this format to successfully pair your Zoom account to your Canvas account.
Zoom Setup

Click on Zoom in the course navigation.  If it is not listed, enable it by managing the course navigation links in course Settings.
Authorize with LMS: Click Authorize to pair your Canvas account to your Zoom account.  This will only need to be done once.

Click the pencil icon to set your time zone.
In the drop down menu, select your time zone.
Click Update.
Zoom Meetings
Schedule a Meeting
These instructions are for Rutgers-affiliated faculty and staff who log into Canvas with a Rutgers NetID and have an existing Zoom Account. Rutgers students and Canvas users who log in with an email address cannot schedule meetings through the Zoom LTI for Canvas Integration.
Select Zoom in the course menu.
Select Schedule a New Meeting.
Enter the details for your meeting.

Topic: The default name is your course title.  Please provide a descriptive name.
Description: Optional information may be listed here.
When: Set the date and time for the meeting in your time zone.
Duration: Set the meeting duration.  Meetings may extend past the expected length.
Time Zone: The time zone selected in the set-up will be displayed.
Recurring Meeting: Check the box if your meeting is recurring at the same time either Daily, Weekly, Monthly, or No Fixed Time.Note: When you schedule a recurring meeting, each meeting occurrence creates an independent event that appears in your meetings list. This means that if you need to modify all instances of a meeting, you must edit each event individually in the Rutgers Zoom Web Portal. Pre-assigned rooms are removed if you edit a meeting.  You must re-add them after you make changes.
Registration: Check the box to require attendees to enter a name and email address (Optional). This does not facilitate use of pre-assigned break-out rooms.
Security: A passcode will be pre-populated. You may require a Waiting Room and turn off the Waiting Room once your meeting is underway (Recommended). Only authenticated users can join meetings is not checked by default. This is required for use of pre-assigned break-out rooms and requires a Rutgers Zoom account.
 Video: The default setting for video is off (Recommended). Participants and hosts may choose to enable video once the meeting has begun.
Audio: Both audio and telephone is enabled so participants have an option when internet connectivity is poor (Recommended). 
Meeting Options:

Enable join before host (Not Recommended).  The recording/polls/other data can be spread across multiple users accounts and not associated with the course instructor's account. By design, it goes to the first person joining the meeting who is set as temporary host.
Mute participant upon entry is checked by default (Recommended).
Instructors may prefer to enable Record the meeting automatically.

Alternate Hosts: Teachers enrolled in your Canvas course site who have completed Zoom Setup will be listed as alternate hosts. Alternate hosts may be removed from each scheduled meeting.

Click Save.
You can view details about your recurring meetings in the list of upcoming meetings.
Polls
Depending on your Zoom account settings, breakout rooms and polls may not be enabled by default.  To enable these features, log into the Rutgers Zoom Web Portal and change your meeting settings.
Once your meeting is scheduled in Canvas, you may download a spreadsheet template (CSV file) [1] to use to import [2] poll questions [3] for your meeting. If you do not need a poll or made an error, you may delete the poll [4].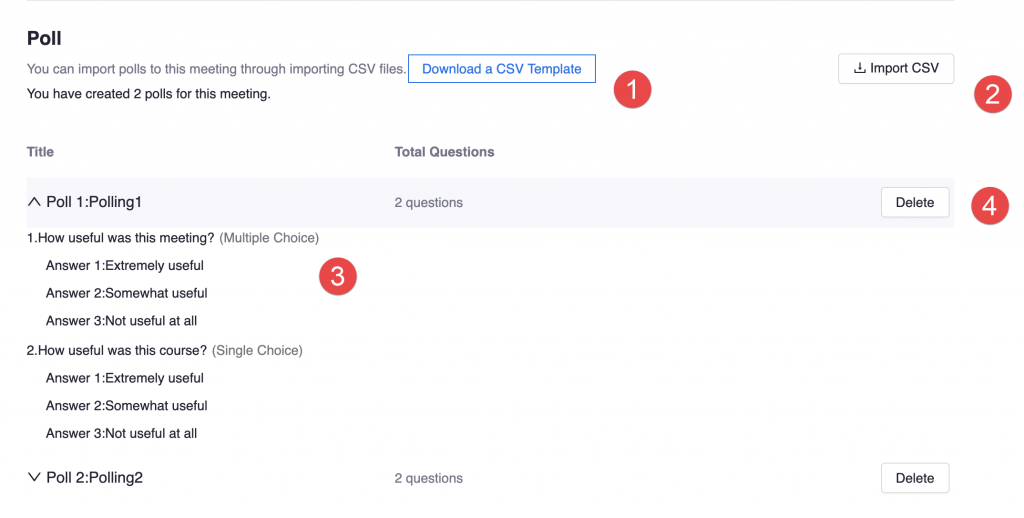 Pre-assign Breakout Rooms
To pre-assign breakout rooms, you will create a meeting in Canvas as above and check the option to Breakout Room pre-assign. This requires students to authenticate into the Zoom application with their Rutgers Zoom account.  Requiring meeting registration does not require authentication.
Schedule your meeting and check the box to require authentication for the meeting (and all occurrences).
Under Meeting Options, check the box by Breakout Room pre-assign:
Enter the breakout room names and participants' email addresses as netid@rutgers.edu. This can be uploaded with a CSV.

Save the meeting.
Note:  To ensure students are properly assigned to breakout rooms, use email addresses with the format netid@rutgers.edu and direct your students to log in with this email address when they access the meeting.
For more information on Zoom breakout rooms, please see the Zoom Support Center
How do I create a CSV for using Rutgers NetID and assign them to a breakout room?
For Rutgers courses tied to a Banner or REGIS roster, your student's Rutgers NetID is their SIS USER ID in Canvas.  The Canvas SIS User ID is available in the gradebook export.
Log into your Canvas course.
Click Grades.
Click the Actions menu [1], then click the Export link [2]. When the export is completed, Canvas will download the CSV file automatically to your computer.
Open the downloaded file.
Copy the first five columns (A-E) of the gradebook export to a new worksheet.
Place your cursor in cell F3. Your cursor should be in the cell to the right of the section name of the first student.
In Cell F3, type =D3&"@rutgers.edu" to combine the NetID with the email domain.
Copy and fill the formula for all students.
If you would like to create breakout rooms based on section assignment, copy the section column and the newly created email address column to the Zoom breakout room template CSV.
Save the Zoom breakout room template as a CSV file.
For more information on MS EXCEL and concatenation and ampersand, view this Linkedin Learning course on Combine data using CONCATENATE, CONCAT, and TEXTJOIN functions and the ampersand (&) character.
Canvas Course Calendar, Dashboard, Inbox, and Notifications
Canvas users are notified by Canvas Conversation (Inbox) and a Canvas Calendar Event whenever a meeting is created or deleted. When you schedule or edit a meeting, the Canvas Calendar updates automatically.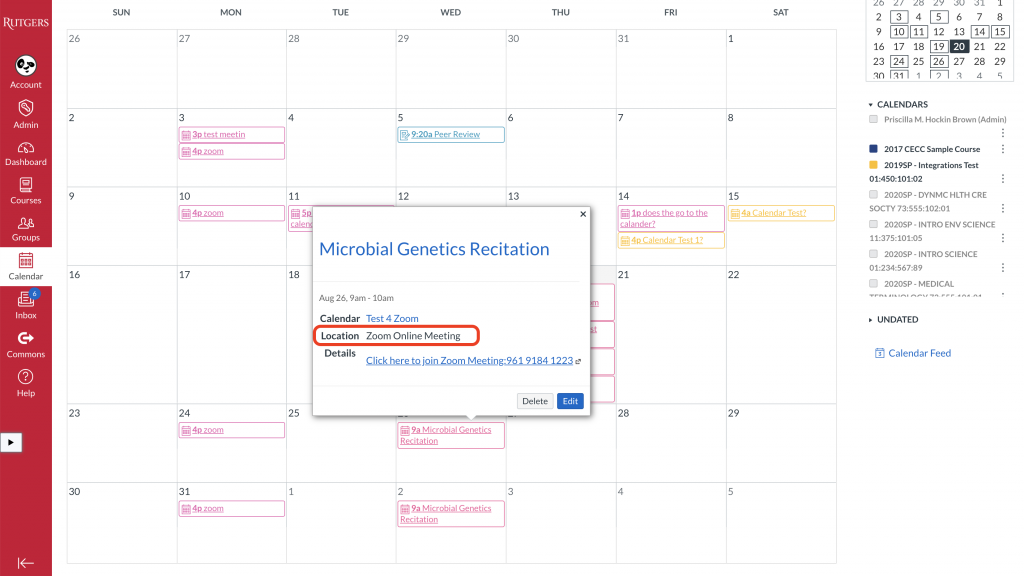 If the course is active (published and within course start and end dates), enrolled students will receive a Canvas Conversation message about the meeting. Students can select the Join URL to join the meeting at the correct time. Please review Setting Early Access in Canvas to understand more about notifications before the start of the semester.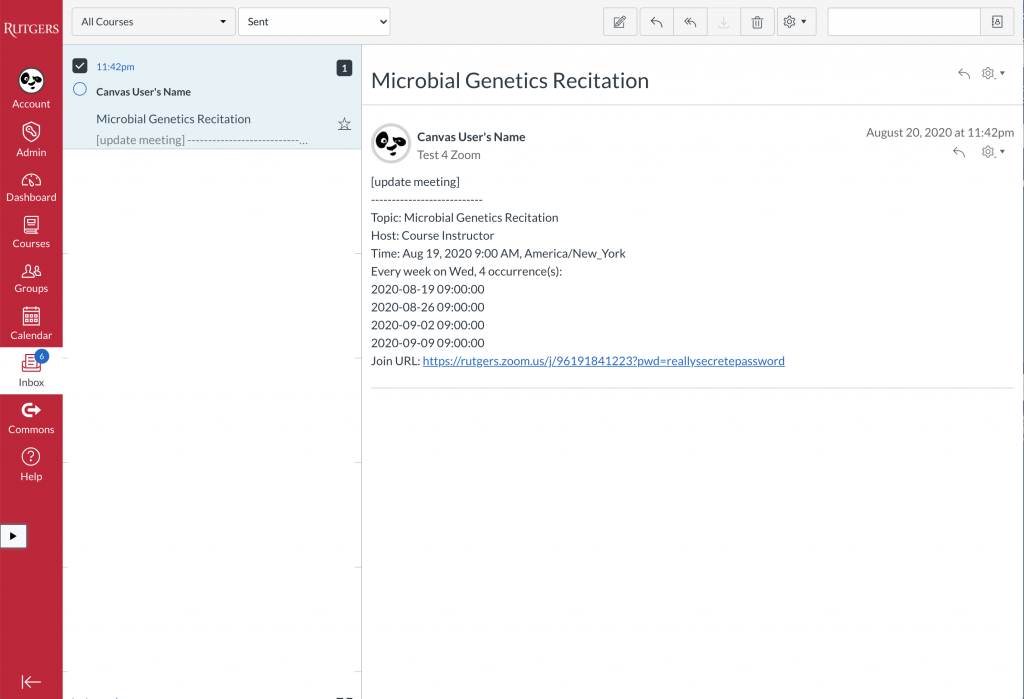 Although as an instructor, you will not see your scheduled Zoom meetings on the Canvas Dashboard (in List View). Students enrolled in your course will see reminders for Zoom meetings on the Canvas Dashboard.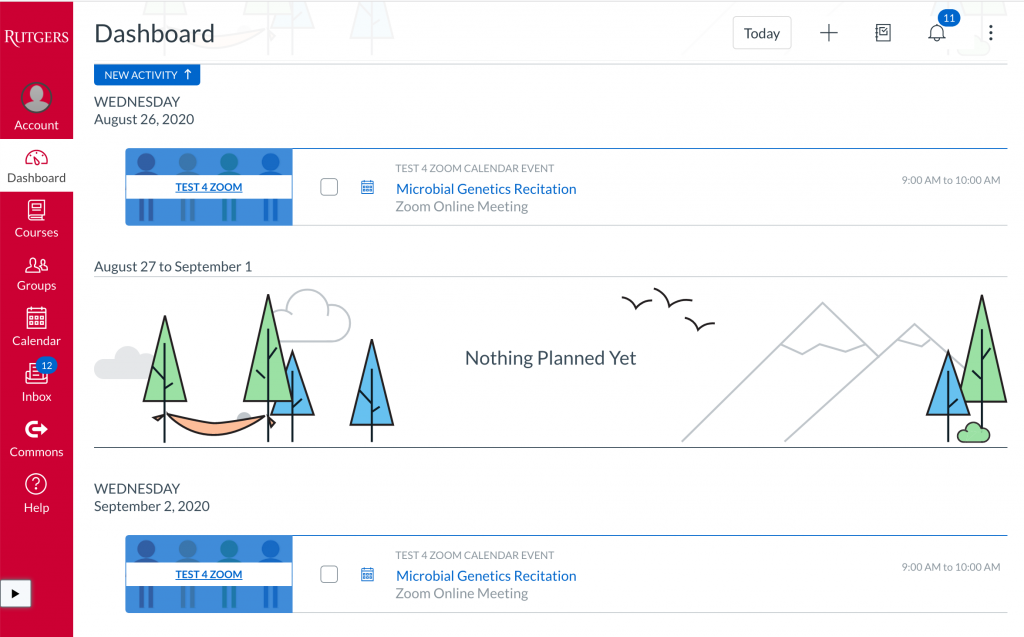 Start a Meeting
If you have scheduled a Zoom meeting using the Zoom for Canvas Integration, you can start the meeting from within Canvas.
In Canvas, select Zoom from the course navigation menu
Select Upcoming Meetings
Select Start to the right of the Meeting ID of the meeting you wish to start.
Manage Recordings
Recordings are preserved for 180 days or until policies are changed.  It is recommended that you download your course recordings and upload them into Kaltura which has unlimited storage.
Security and Link Sharing
Please caution your students against sharing Zoom links. Zoom links are unique to the participant (student) and the meeting.  The Zoom link will also include the meeting password. Since the link includes participant information, when a link is shared, then two participants with the same name will appear in the participant panel.  This has implications if you are using the Attendance Report for awarding participation points.
---