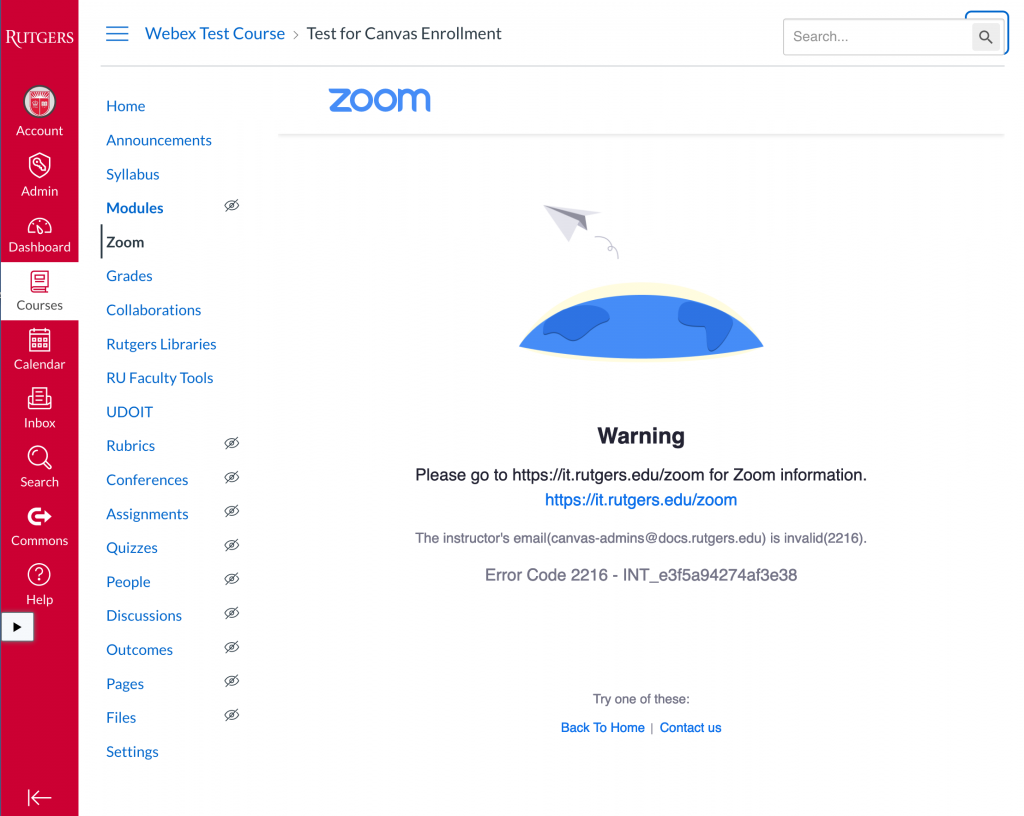 When clicking on Zoom for the first time, instructors may see an error message that indicates an invalid email address.
To connect your Canvas account to Zoom, your email address in Canvas must be in the format of netid@rutgers.edu, e.g., hr134@rutgers.edu. Email address with the format netid@domain.rutgers.edu (hr134@oit.rutgers.edu) and firstname.lastname@rutgers.edu (henry.rutgers@rutgers.edu) will cause this error.  Zoom accounts are created as netid@rutgers.edu.
To change your default email address, you must first add another email address as a contact method; then you can change your default email address in Canvas.
Add your netid@rutgers.edu email address to Canvas
Open User Settings
In Global Navigation, click the Account link [1], then click the Settings link [2].
Add Email Address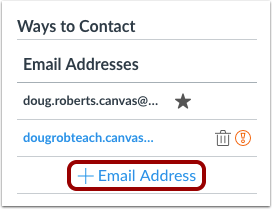 In the Email Addresses section, click the Add Email Address link.
Register Email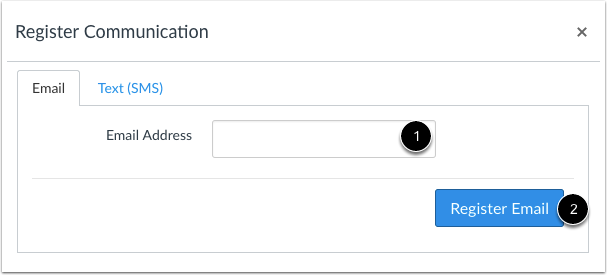 Type in the email address you want to add in the text field [1]. When you are finished, click Register Email [2].
Confirm Email Address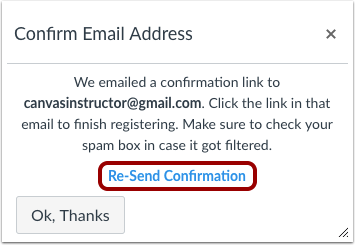 Open your email account you just added. Click the link that is in the email to finish registering the additional email address. You may have to check your junk mail folder.
If you need to resend the confirmation, click the Re-Send Confirmation link.
Set your default email address
View Email Addresses
In the Ways to Contact sidebar, under Email Addresses, you can tell what email address is your default by the star icon next to the email address.
Choose Default Email Address
To choose a new default email address, hover over the email address and a faint star icon will appear. Click the star icon.
To use the Zoom integration, your default email address must be netid@rutgers.edu, e.g. hr123@rutgers.  Email addresses using firstname.lastname@rutges.edu (henry.rutgers@rutgers.edu) and netid@domain.rutgers.edu (hr123@oldqueens.rutgers.edu) are not valid Zoom email addresses.