Linkedin Learning – Creating Pathways for Custom Content or Individual Videos from Existing Linkedin Learning Courses
Linkedin Learning is available as an integration in Rutgers Canvas. Instructors may already have a learner account available from Rutgers Office of Information Technology Linkedin Learning website. The following directions are divided into four parts that describe the process to gain additional permissions needed to use the Canvas integration, creating an assignment for a custom-created Linkedin Learning Pathway, and grading your Canvas Assignment.
Canvas Assignment Setup
Log into Canvas and navigate to your course.
In your Canvas course, click Assignments in the course navigation. Add a new assignment. You may also add an assignment type to an existing Module.
You may add any directions or assignment-specific information in the Rich Content Editor. For Submission Type, choose External Tool from the dropdown menu and click on the Find button.
In the Configure External Tool window, select Linkedin Learning.
Check the box to Load in a new tab.
Click Select.
Edit your assignment settings to include points and due dates.
Click Save.
Select Linkedin Learning Content
Click to Load your assignment in a new window.
In the upper right, click Go to Admin.
In the upper menu, click Add then in the drop-down menu, click create learning path.
From the pop-up that appears, click:

Create new if you'd like to build a new learning path
Copy existing if you'd like to copy and customize an existing learning path to fit your needs. If you choose this option, click Select from the learning path you'd like to copy. You can then edit the learning path to personalize it. If you've never created a new learning path, click Start now.

In the Create new Learning Path: Details window:

Add a default or custom thumbnail: Select the Default thumbnail image, or upload a Custom thumbnail image.
Add title: The title of your learning path.
Add description: A summary of what the learning path is about.
Select content language: Select the language of the learning path.
Set discoverability: Define who can find this content on their homepage and in search results. Anyone within your organization can view the content with a shared link.
Add skills: The skills you think learners will develop after watching the learning path.
Add custom tags: Tags that are unique to your organization and will help learners search for the learning path.

Click Create.
Add a section title, Add a section description, and click Add content.

You may select Add existing custom content and LinkedIn Learning content or Add new linked custom content.

If you choose to add the LinkedIn Learning content, click the Add icon.
Browse or search for content.
When you locate the course you wish to add you may choose to add the whole course. Click Add next to the course title:Alternatively, you may click the course title then click See Full Course to view the list of individual videos and sections.From within a Linkedin Learning course, you may click the + sign to add a particular video segment of the Linkedin Learning course to your Learning Path.
When you have added all the courses and videos you would like, click Close in the top right.
You can then click Add new section or click Save & Publish in the upper right corner. Learn more about editing a learning path.
Click Share and, from the drop down menu, select Share via link. The SSO link has been saved to your clipboard.

Return to your Canvas assignment.
Add Linkedin Learning SSO Link to your Canvas assignment
Edit your Canvas assignment.
Scroll down to Submission Type.
In the Enter or find an External Tool URL field, paste the SSO URL from your clipboard into the field.
Scroll to the bottom and click Save.
Test the URL by loading the assignment in a new window.
Grading Your Linkedin Learning Assignment
Linkedin Learning will automatically enter the points in your gradebook based on the percentage of the video that your students watch.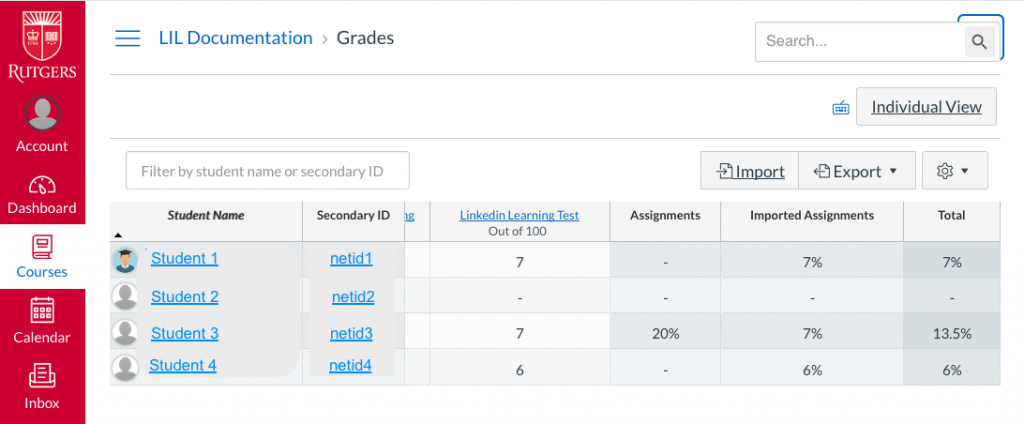 ---