Linkedin Learning, formally Lynda.com, is available as an integration in Rutgers Canvas. Instructors may assign courses or videos for students. Instructors may already have a learner account available from Rutgers Office of Information Technology Linkedin Learning website. The following directions are divided into three parts that describe the process to gain additional permissions needed to use the Canvas integration and  creating an assignment for Linkedin Learning:
Canvas External Tool Setup
Log into Canvas and navigate to your course.
In your Canvas course, click Modules in the course navigation. Create a Module or use an existing module.
Add an External Tool as a module item.
Select Linkedin Learning from the list.
Add a descriptive name.
Check the box to Load in a new tab.
Click Add Item.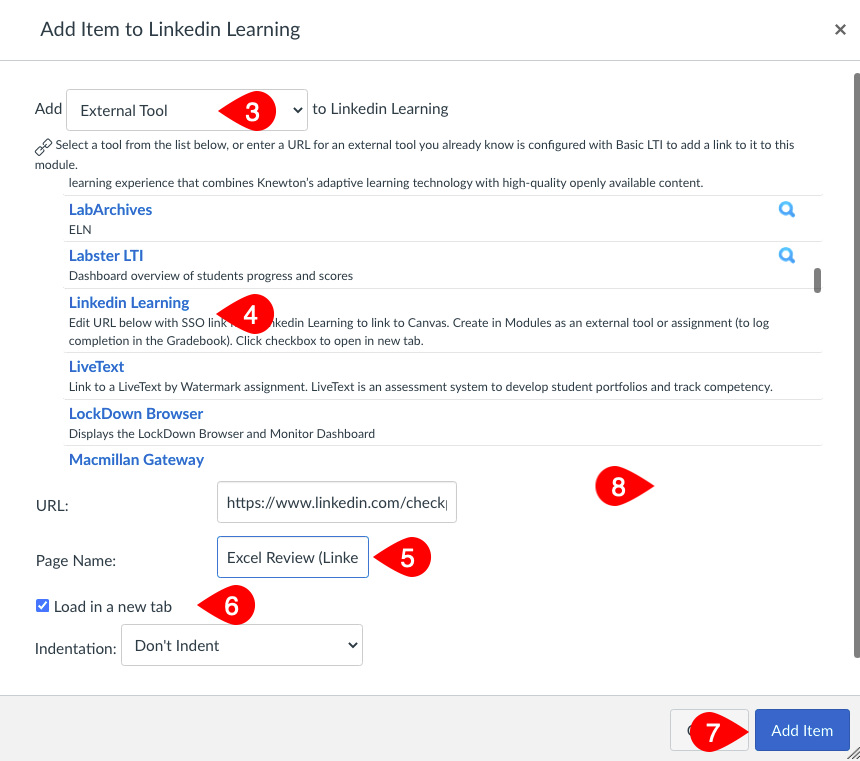 Select Linkedin Learning Content
For the Canvas Module item you just created, click to load in a new window.
In the upper right, click Go to Admin.
In the upper menu, click Content.
Browse or search for content.
When you locate the course you wish to add DO Not click on the tile. Hover your mouse over the tile and you will see the More menu. From the More (A) menu, click Share via LTI SSO link. The URL is saved in your clipboard.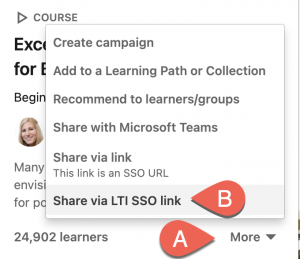 Alternatively, from within a Linkedin Learning course, you may also use an SSO URL link from a particular video segment in a Linkedin Learning course.  Navigate to the course.  In the contents tab, click the three dots (A) to copy the Share via LTI SSO URL (B).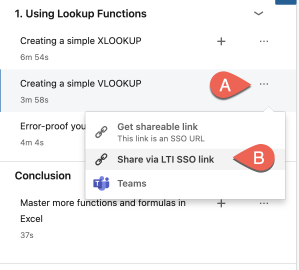 Return to your Canvas Module.
Add Linkedin Learning SSO Link to your Canvas module item
Edit your Canvas external tool link in modules by clicking the three dots, then click edit.
Paste the Linkedin Learning SSO URL in the URL field.
In the Enter or find an External Tool URL field, paste the LTI SSO URL from Linkedin Learning into the field.
Click Update.
Test the URL by loading the assignment in a new window.