In-Video Quiz (IVQ) is enabled in Canvas as a new external tool for assignments. IVQ is powered by Kaltura. In-video quizzing will allow instructors to have students answer questions at certain time points in the video.  The score for the quizzes will appear in the Canvas grades.
To use IVQ, upload a video to Kaltura (through Canvas or Kaltura Media Space – KMS) and add questions at specific points in the video.  You can then create an assignment and link it to the quiz-video. While each students total scores are synced with the Canvas gradebook, user analytics such as how students answered each question are only available through the KMS interface. Through KMS you can see question-level statistics (e.g. how many people got each one right and wrong) as well as user level stats (e.g. which questions each user got right and wrong). You can see a screenshot of the full quiz analytics below.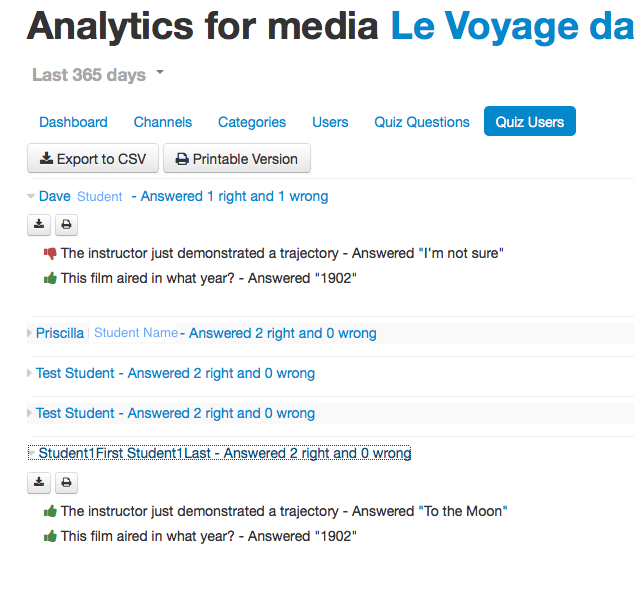 To make an In-Video Quiz a Canvas assignment:
Create a video quiz in your My Media – See How to create a Quiz with IVQ.  Take note of the multiple attempts setting in the Kaltura IVQ.
In your Canvas course go to the Assignments tool in the course navigation.
Add a new assignment. Do not add any Kaltura content in the rich content editor. You may, however, wish to add instructions or guidance.
Select submission type "External Tool" as shown below.

Click "Find"; a pop up will appear.
Select the In Video Quiz tool link, as shown below.

Now a window showing your Kaltura media will appear. Select a quiz from this My Media window
Click the Select button at the lower right of the Configure External Tool Window.
Set the number of attempts to match the attempt settings denoted in the Kaltura IVQ settings.  (See How do I limit submission attempts for an assignment?)
Save and publish the assignment.
Deep Dive with Canvas Guides
Tips
On the scrubber (the video status bar at the bottom of the player), questions are bookmarked for viewers to know when they will occur.  Like any video posted on the internet, a viewer can advance the video to the bookmark without viewing the intervening content.  Currently, IVQ question types are limited to multiple choice questions that can be automatically scored.
IVQs are a great method to provide low or no-stakes practice quizzes and feedback for your students.