The Canvas Plagiarism Framework (CPF) is an easy to use method of obtaining Turnitin Similarity & Originality Reports for submitted assignments in Canvas.  Turnitin features are configured via Canvas assignment settings and accessible from within Feedback Studio.  In addition to its ease of use there are several advantages to using the Canvas Plagiarism Framework over the Turnitin External Tool integration.
All access and due date settings are pulled directly from the Canvas assignment settings.  This avoids the Turnitin errors that are common when importing assignments from past courses.
Supports Group Assignments.
Supports Canvas Peer Review assignments
Multiple submissions are supported with each submission receiving it's own Similarity Report.
Re-submissions are permitted after the Due Date
For more information on the Canvas Plagiarism Framework's features, check out the full product comparison chart.
Note: If you use Turnitin features such as GradeMark, PeerMark or Turnitin's rubrics or grading forms you will need to continue using the Turnitin External Tool integration.
To Enable Canvas Plagiarism Framework (Turnitin)
Create a new assignment or go to an existing assignment you wish to enable Turnitin for.
In the assignment settings, select Online as the assignment Submission Type.
Under Online entry options, select the File Uploads and/or Text entry checkbox.
Select Turnitin from the Plagiarism Review drop-down menu.

Customize the Turnitin Plagiarism settings as desired.  To learn more about how to configure the platform, check out the Turnitin settings documentation in Step 10.
Make any adjustments to the remaining Canvas assignment settings as desired including making this a group assignment, requiring Peer Reviews and setting the access and due dates.
Click Save when done or Save & Publish to make the assignment available to students.
Note: As Canvas may not immediately notify Turnitin that an assignment has been created, we advise waiting 90 seconds between creating the assignment and making the first submission. This will allow Canvas to notify Turnitin that the assignment has been created.
The Similarity Report
Instructors can access the Similarity Reports in either SpeedGrader or Gradebook by clicking the colored icon as indicated in either Gradebook: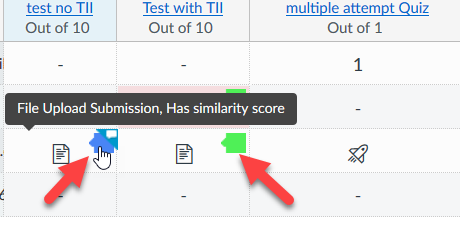 or SpeedGrader.


More detailed information about reading, filtering and interpreting the Similarity Report is available on the Turnitin Similarity Report guide.
Note: If you continue to encounter an issue with the Similarity Report failing to generate, you can select Resubmit to Turnitin from SpeedGrader, which forces the Similarity Report to generate.
If Show originality report to students has been enabled, students will be able to view their Originality Report when it has been made available by clicking the icon in Gradebook.

Additional Resources: