Adobe Creative Cloud for Instructors
To use the Adobe Creative Cloud integration, users must have an existing Adobe Create Cloud account. User may activate an Adobe Create Cloud account, as part of the Rutgers enterprise license, through the Rutgers Software portal before accessing resources in Canvas.
In the article, the following topics are covered:
Access Adobe Creative Cloud in Canvas
Click on Adobe Creative Cloud (A) in the course navigation.  If it is not listed, enable it by managing the course navigation links in course Settings (B).
A pop-up window will appear to log into Adobe Creative Cloud.  Users may sign in with an existing email and password for a personal account (1) or select Sign in with Enterprise ID (2) if your account is part of the Rutgers enterprise license. Enter your email address as your netid@rutgers.edu, e.g., hr1766@rutgers.edu.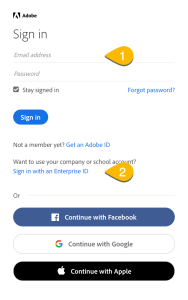 Users may access the desktop, mobile, or web (C) apps to work on projects and content before sharing with others.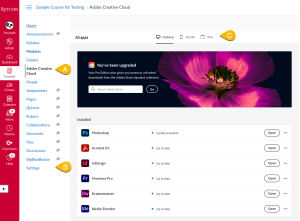 Create an Adobe Creative Cloud Express Assignment
Login to Canvas and navigate to your course.
Select Assignments or Modules in the left column menu and create an online assignment. Do not create an assignment using an external app.

Enter assignment details, points, and due dates.
For Submission Type, select Online.
For Online Entry Options, check the box for Website URL.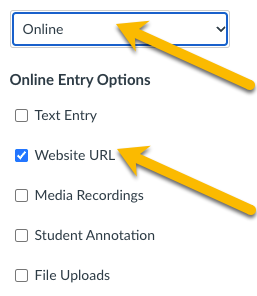 Click Apps in the toolbar.
If your browser window is narrow, you may have to click on the More (1) icon (3 dots) to expand the toolbar then click Apps (2).  Alternatively, you may use the RCE menu and click Tools > Apps > Adobe Creative Cloud Express.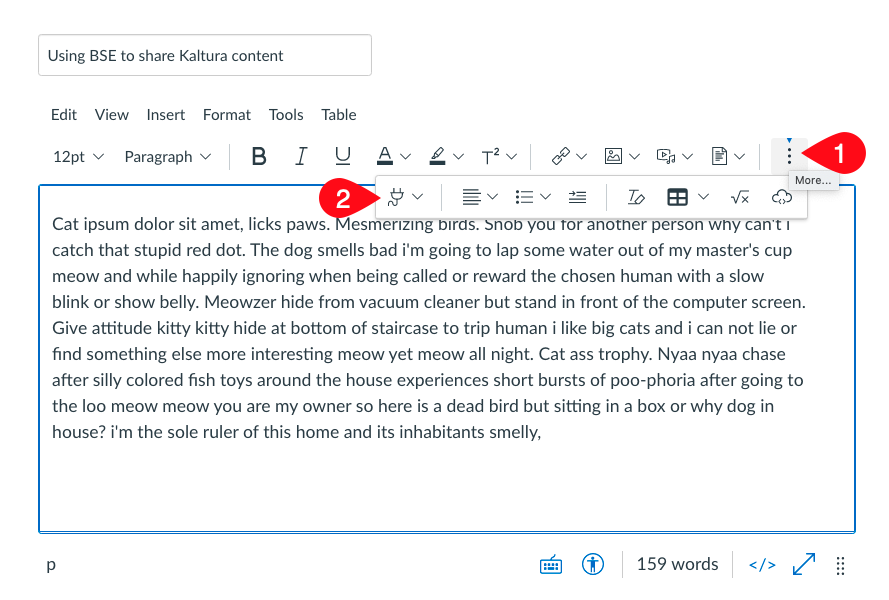 A pop-up will appear.  Scroll down (1) or search (2) for Adobe Creative Cloud Express.  Click Adobe Creative Cloud Express.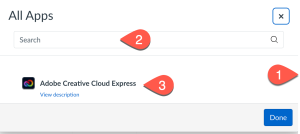 In the Adobe Creative Cloud Express window, click + Projects (1) to create a new template or click an existing project (2). You may be prompted to log in.  See Access Adobe Creative Cloud in Canvas for login instructions.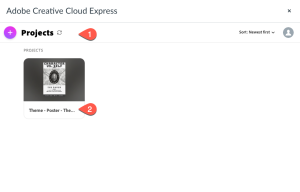 Confirm your assignment template (1) or customize to edit it (2).  Click Attach (3) when complete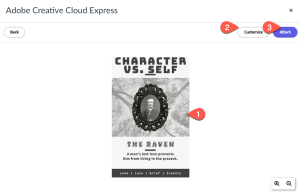 Click Save or Save and Publish.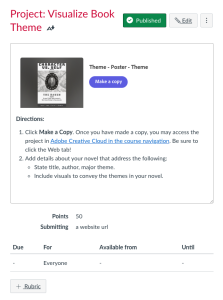 In the example above, Adobe Creative Cloud Express integration created an iframe window with an original height of 450px.  To reduce the amount of white space added, use the HTML view in the rich content editor (1) to reduce to default height from 450px (2) to 175px (3).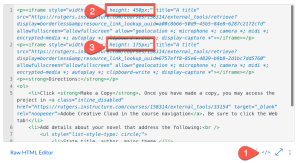 Grading an Adobe Creative Cloud Express Assignment
When SpeedGrader loads, the submitted URL is displayed. Click on the URL (A) or click to View in a new tab (B).
View the submitted Adobe Creative Cloud Express project within SpeedGrader. (How do I grade a website URL submission in SpeedGrader?)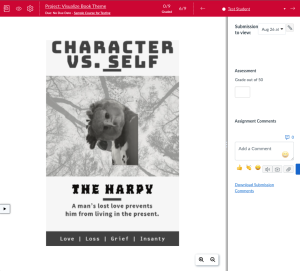 Accessing Canvas Content from your Adobe Express Account
As students submit to the Canvas assignment, a course folder is created in Adobe Express with a folder is created for each assignment.  The names of the folders should not be renamed. Student submissions are stored as a copy in your Adobe Express account. If a student submits to the assignment more than once, each copy will appear in the assignment folder. Any edits you make to the project will not be seen by the student unless you share the project with the student.
---