ProctorTrack is an tool for monitoring online exams which utilizes an automated, proctorless approach to ensure exam taking integrity.  A course prep module is available in Canvas Commons that includes information on how to enable ProctorTrack in your course and information to share with your students. Sample syllabus statements, announcements, and links to a knowledge base are also present.
Notes:
You must enable proctoring on each of your exams every semester. Proctoring settings are not retained during Course Copy/Import. Verify settings by clicking "Troubleshoot" on the ProctorTrack Dashboard.
Students must take an Onboarding Quiz to establish a baseline profile before they will be able to take a proctored exam.  A sample onboarding quiz is provided in the course prep module.
If you have never imported from Canvas Commons before you may want to review Importing from Canvas Commons.
On this page:
Adding ProctorTrack to your course
Access Canvas Commons by clicking on the Commons link in the Global Navigation in Canvas.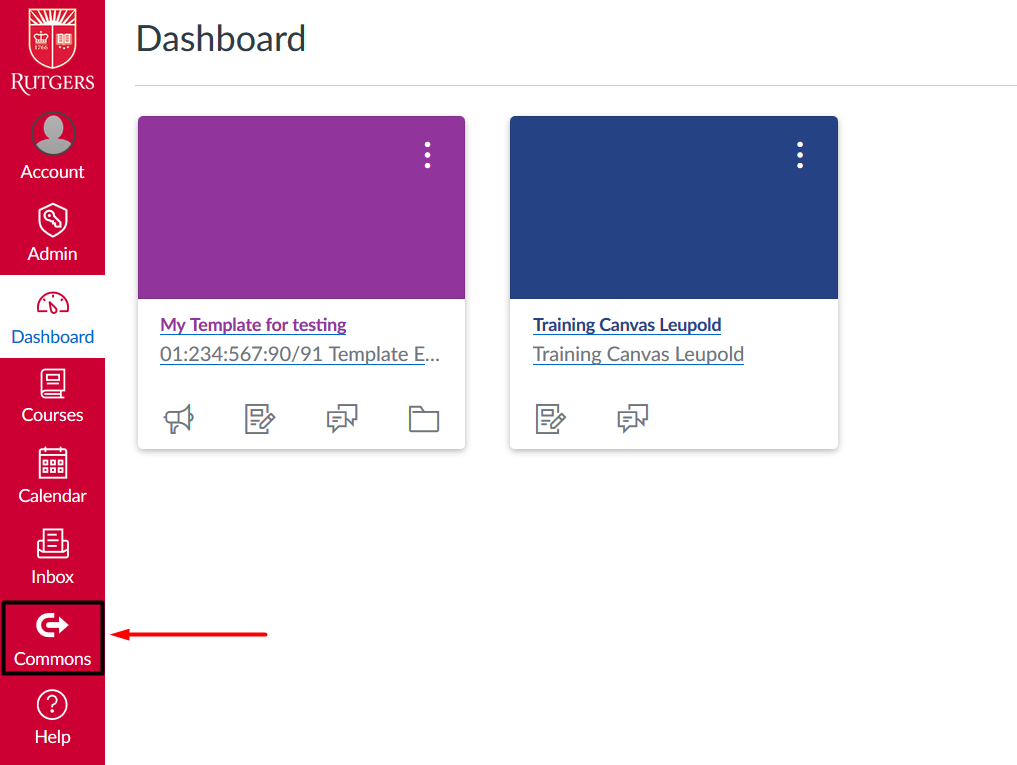 Enter Rutgers in the search field to locate Rutgers content.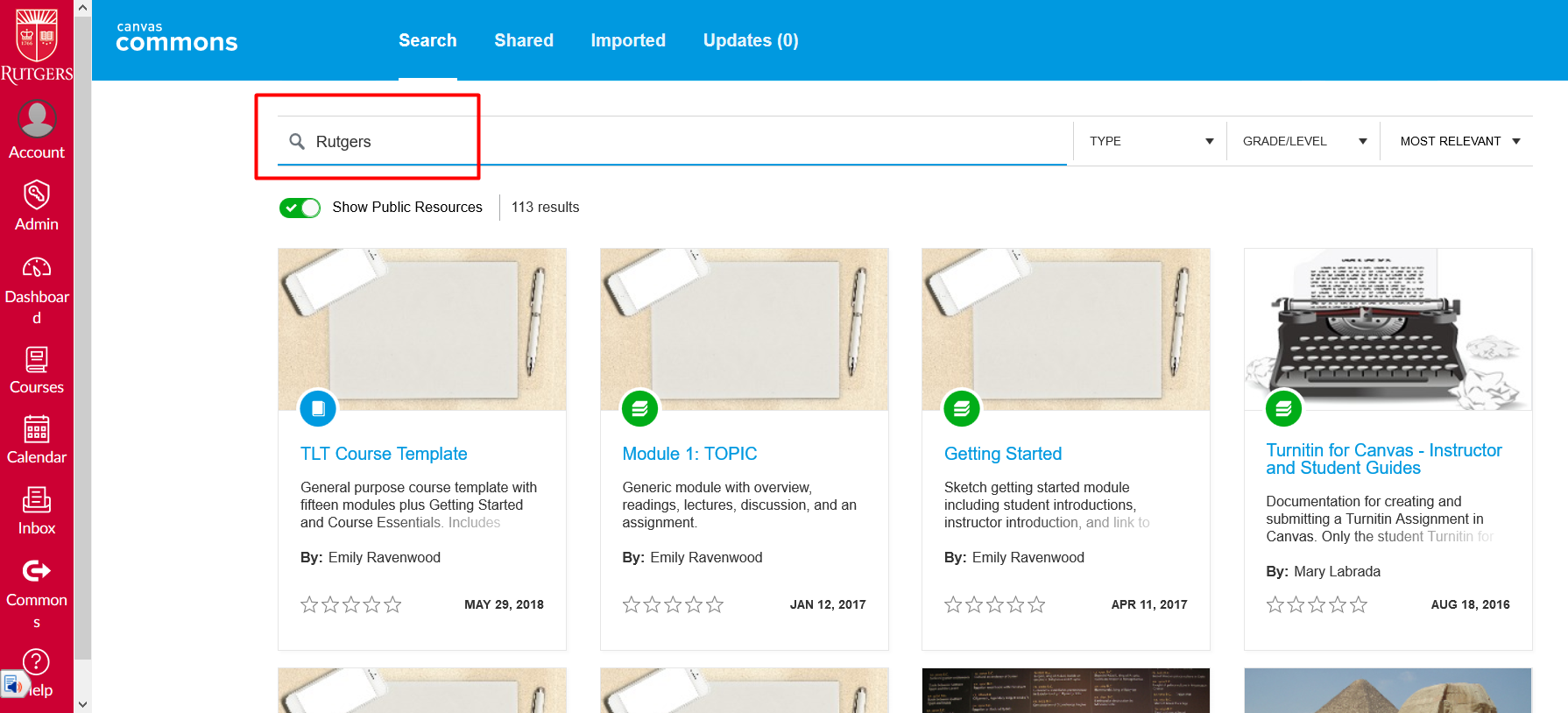 Locate and click the title for ProctorTrack Set-up Module and Documentation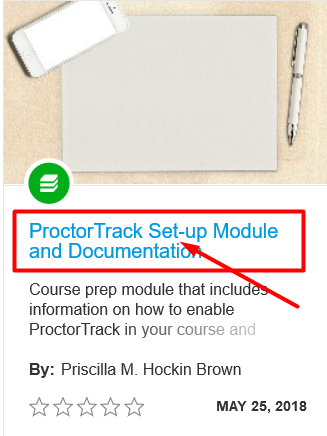 Enabling ProctorTrack in your course
Once the import has completed you can go to your course and click on Modules in the Course Navigation.  You will see a module named Course Prep/Communication –>Leave Unpublished at the bottom of your Modules.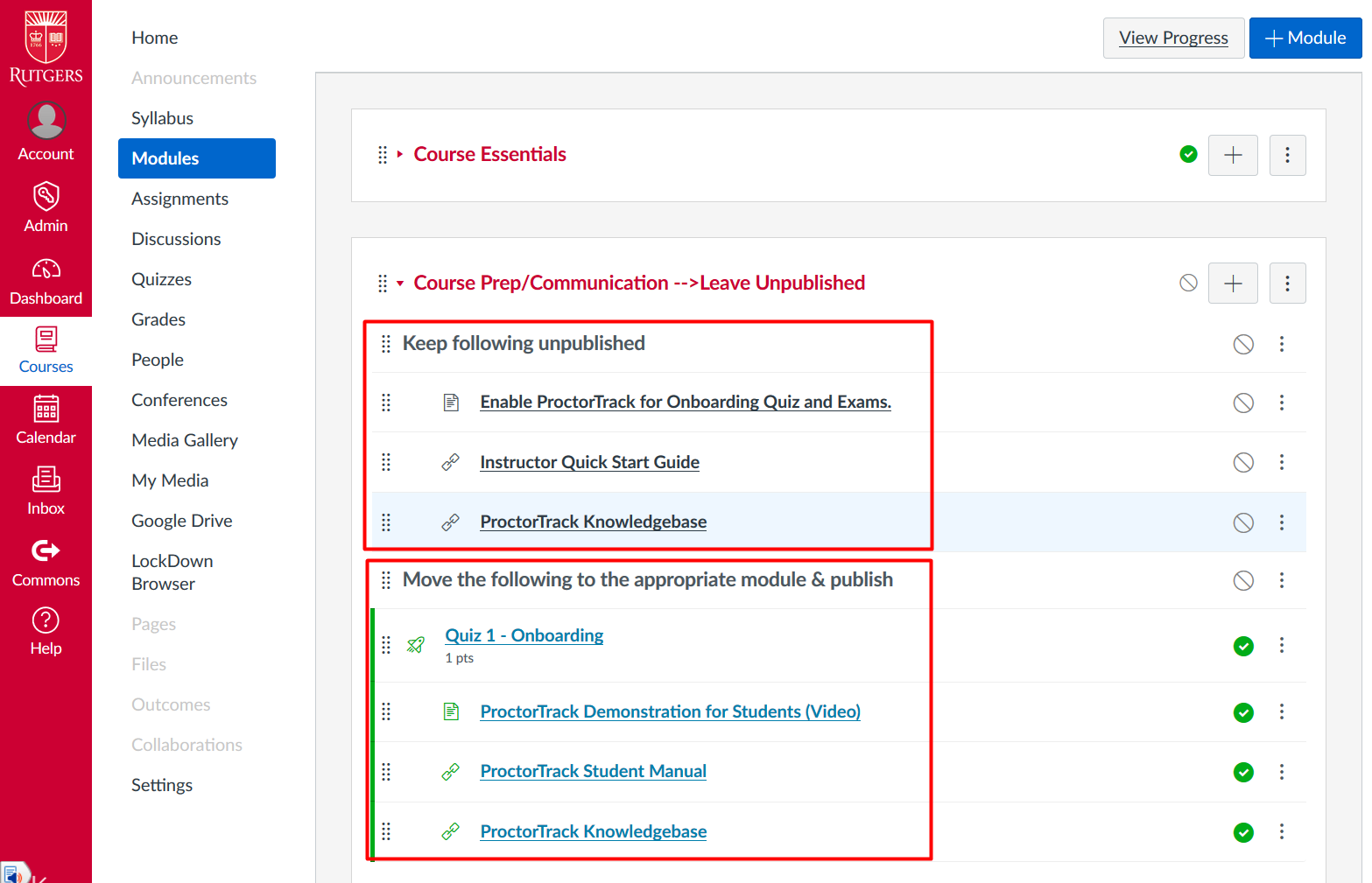 The first section contains items intended for instructor use only and should remain unpublished.   These items will provide detailed instructions on enabling and using ProctorTrack and include:
Enable ProctorTrack for Onboarding Quiz and Exams.
Instructor Quick Start Guide
ProctorTrack Knowledgebase
The second section contains a sample onboarding quiz and documentation intended for students.  Although they will show as published, because the module that was imported is unpublished, they will need to be moved to an appropriate published module in the course such as Course Essentials in order for students to access these items.

Enabling Proctortrack for a Quiz / Exam
If you do not see ProctorTrack listed in the Course Navigation on the left side you will need to go to Settings > Navigation in your course and enable the tool.  See How do I manage Course Navigation links? for detailed instructions.
Click ProctorTrack in your Course Navigation to open the Proctortrack Admin Console.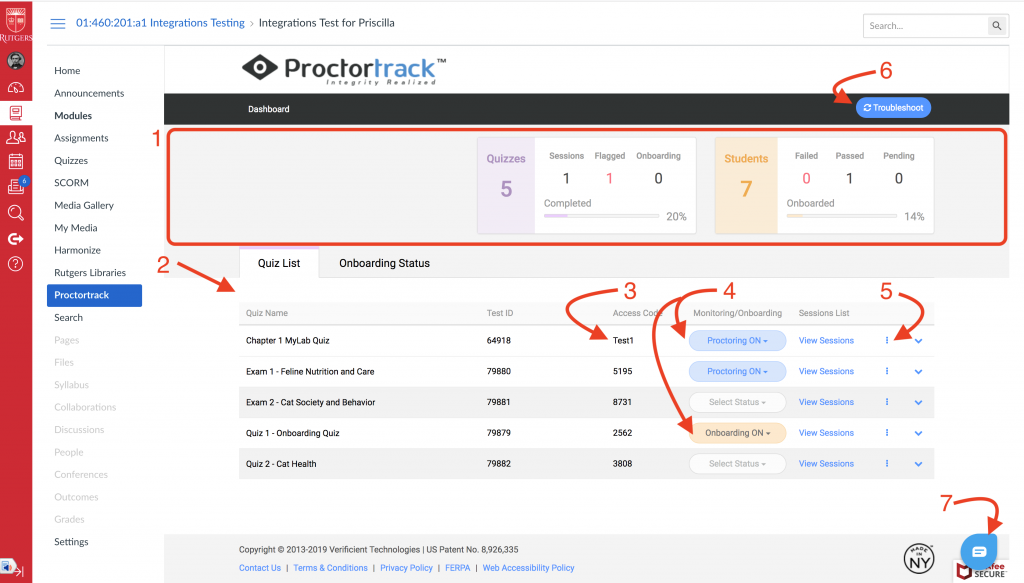 Test Progress Overview – This area highlights the number of students who have are being proctored, processed and how many have passed or require attention.
Quiz List tab is populated with all of the exams listed the exam name as it appears in Canvas, a ProctorTrack ID, the exam access code which is automatically transferred to an exam if proctoring is enabled and the ProctorTrack exam settings.
Access Code – Automatically generated by ProctorTrack.  If proctoring is enabled, the code is automatically entered into the quiz settings.
Proctoring status – Click the drop down to designate an exam or quiz as onboarding or proctoring.
Proctoring Settings – click the three dots and selecting 'Go to Configuration'  will allow an instructor to change the proctoring parameters specifying what actions are required or allowed.  These are fully explained in the configuration panel.
Troubleshoot – Click to verify proctoring status, especially prior to semester start, to ensure proctoring and onboarding status is enabled.
ProctorTrack Support – click here to initiate a Live Chat session with ProctorTrack support.
Onboarding Status

By clicking on the Onboarding Status tab (1), instructors will see the names of their students, the dates the students completed an onboarding quiz within Rutgers Canvas and the expiration date (2), and the onboarding status. Onboarding status includes No Attempt, Approved in Course, Approved in Different Course, and Failed.
Instructors may us the onboarding status tab to email students who have not attempted onboarding or who have failed onboarding.
Notes:
An Onboarding Quiz is required.  One has been provided in the Course Prep/Communication –>Leave Unpublished​ module or you can create your own.  Any quiz or exam in your course can be designated for onboarding.
A best practice for proctoring is to state in the course syllabus that there is a proctoring requirement and that a web camera is required.  Sample text is available in the Course Prep/Communication –>Leave Unpublished module
Important:  Please do not share the quiz/exam access code with your students.  The proctoring solution will do this for you.
In case you need assistance, please email help@canvas.rutgers.edu or by clicking the ProctorTrack Help icon in the ProctorTrack Dashboard.  You may also search the ProctorTrack Knowledge base (external link)
Additional Resources